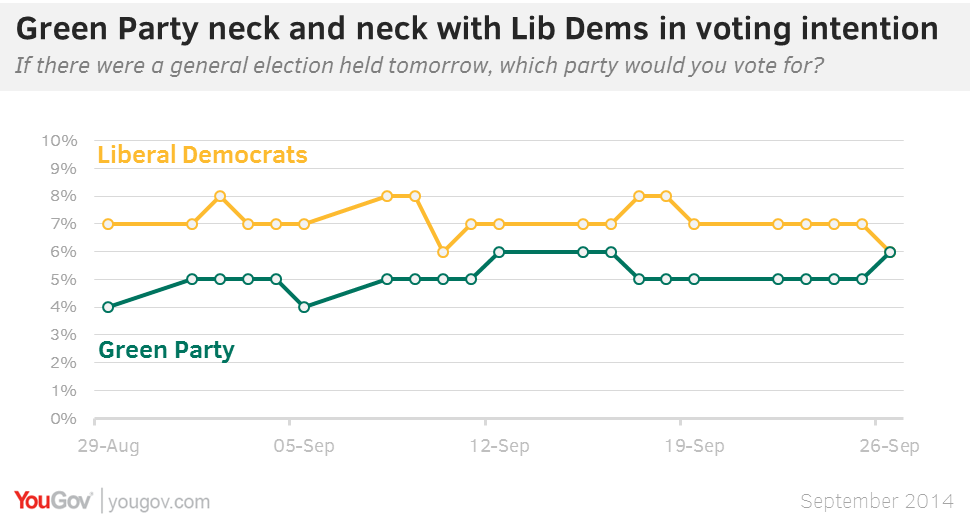 This weekend's
YouGov poll
tells two stories, one of the decline of the Lib Dems and more
importantly the rise of the Greens. The poll puts the Greens neck and neck with the Lib Dems nationally in a poll of how people are planning to vote in the 2015 general election.
The level of momentum cannot be underestimated. Our England and Wales membership has grown by
40% this year and is just under 20,000
- when you add in Scotland and NI, membership is around 26,000. In Canterbury last week over 500 students joined the UKC Green Party Society at the Freshers Fayre. While in Whitstable we kicked off our campaign with an anti-fracking petition on our stall on Oxford Street and our newsletter to Whitstable residents.
This year we achieved an amazing 14% in the constituency, rising to 18% in Canterbury City. With Labour not targeting Canterbury, the collapse of the Lib Dems plus the splitting of the Tory vote by UKIP, there is a real chance that the Greens can win Canterbury. We will be doing all we can to have Kent's first Green MP in Canterbury next year.