I'm not sure why the
Lib Dems have described the Autumn Statement
as a "joint enterprise", I would have thought they would want to get as far away from it as possible.
But then the package may be just what the Tories and Tory-Lite want. And clearly they are very happy with what it will do to the various sectors of society: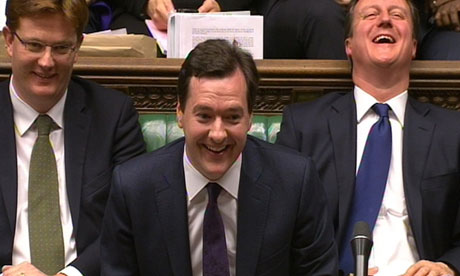 Some key highlights:
Below inflation rise in benefits (that's a cut in real terms). Rather than creating jobs and protecting the vulnerable, they are pushing poverty as if it were a good thing for the masses
No rise on fuel duty. Stuff the planet! I would have put fuel duty up and made sure that money went directly into investment in public transport
More people into the 40p tax rate. Surely better to properly tax those on £100k first?
Corporation tax down by 1%. Why? What about the tax avoidance? Go after Starbucks, Amazon and others.
Laughing all the way to their mansions.